Here's How to Make Your Own 'Harry Potter'-Inspired Butterbeer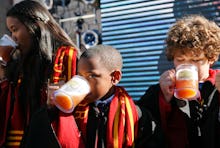 Candies from Honeydukes, cauldron cakes, pumpkin pasties — those Harry Potter kids sure do find time to eat a lot, considering they're constantly being pursued by the most evil wizard of all time. But one of the best-sounding treats in the Harry Potter universe is arguably butterbeer, the sweet, bubbly drink served up by the glass at the Three Broomsticks, the name of a pub in the fictional wizard town of Hogsmeade. 
Read: 'Harry Potter' Cast Members React to the Passing of Alan Rickman
In the real world, there's an official butterbeer served at Universal's Wizarding World of Harry Potter theme park, with a secret recipe cooked-up by a chef who sat down with J.K. Rowling herself, but in case you can't get to the park to try that one out, here's how to make it yourself.
There are a ton of recipes for butterbeer out there on the internet but this one, from Tablespoon, doesn't call for any weird ingredients like marshmallow creme or fake butter flavor. To make it you'll need:
- 1 cup brown sugar
- 2 tablespoons water
- 6 tablespoons butter
- 1/2 teaspoon salt
- 1/2 teaspoon cider vinegar
- 3/4 cup heavy cream, divided (this will be clear later)
- 1/2 teaspoon rum extract
- 4 (12 ounce) bottles cream soda
First, combine the brown sugar and water in a small saucepan over medium heat. Bring it to a boil, stirring often.
Then, stir in the butter, salt, vinegar and 1/4 cup of heavy cream, and take the whole thing off the heat and let it cool. Once it's cooled enough, add the rum extract.
Put the remaining 1/2 cup of heavy cream in a medium mixing bowl and add 2 tablespoons from your cooled brown sugar mixture. Use an electric mixer to mix until just before it becomes whipped cream.
To serve your butterbeer, divide the brown sugar mixture into 4 glasses (about 1/4 cup each) then add 1/4 cup of cold cream soda to each glass and stir. Top off the glasses with any remaining soda, and then add your whipped cream on the top (if you want you could probably add a shot of rum in there too).
Now drink and enjoy (at your own risk, given the high amount of actual butter in butterbeer), and pretend you're a wizard instead of just a muggle!