'Straight Outta Compton' Trailers Were Marketed to Facebook Users Based on Their Race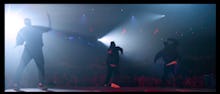 Amidst the controversy surrounding #OscarsSoWhite, perhaps it's unsurprising to hear that one of the highest grossing and well received films of the year had trailers whitewashed by its distributor — Universal Studios — on Facebook. Speaking at a SXSW panel on Saturday, Doug Neil, Universal's executive vice president of digital marketing, said Straight Outta Compton had trailers released on Facebook created for different races, and he credited it for the film's financial success. 
According to Business Insider, Neil said he knew the movie would be a success with black audiences, but was surprised it was such a "breakout hit" in general, grossing over $160 million in the United States. However, he holds his hat to the Facebook marketing effort by Universal's "multicultural team," which "tailored trailers for different segments of the population." 
Why? The reasoning was that the general audience wouldn't be familiar with N.W.A., or with Ice Cube and Dr. Dre outside of their current mainstream success (presumably, Dr. Dre's headphones and Ice Cube's movies). As such, the trailers sent to the primarily non-black users were sold as a movie about Dr. Dre and Ice Cube's rise to prominence, rather than about N.W.A. 
What's concerning is how this was achieved, as Facebook doesn't require a user to put forth this information in their profile, making Universal's implementation of the strategy suspect. 
"Since Facebook doesn't ask people to self-identify as a particular race, a campaign like Universal's uses what are called 'affinity' groups," Nathan McAlone wrote for Business Insider. "To construct an 'African-American affinity segment,' Facebook would look at indicators like whether someone was a member of an African American Chamber of Commerce Facebook group. When many of these indicators are taken into account simultaneously, it allows Facebook to define the 'affinity' segment." 
With the rise and prominence of social media, perhaps it's worrying that marketers are using Facebook and race to profile and to make assumptions about what a person knows or doesn't know. 
"From a business perspective, it's an efficient strategy, but it's still completely strange that all this was based on a white marketing team's intuition or feeling about how people respond to black art or what cultural knowledge they assume people have," Clover Hope wrote for Jezebel. 
Read more: This Is What the Oscars Can Actually Do to Prevent #OscarsSoWhite From Happening Again
h/t Business Insider