Who Is Mia Goth? Here's What the Actress and Model Engaged to Shia LaBeouf Is Up To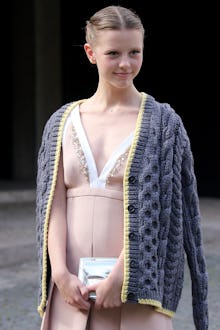 Mia Goth is best known for her role as "P" in Lars Von Trier's 2013 film Nymphomaniac: Vol. II. Goth has also been dating Nymphomaniac co-star Shia LaBeouf for nearly four years. Despite a very heated public argument in 2015, US Weekly reports that Goth and LaBeouf are now engaged. Though Goth is perhaps best known for her work in Von Trier's film, she has had other acting credits, as well as a career in modeling.
Read more: Shia LaBeouf Asks Callers to "Touch My Soul" in New Experimental Art Project
Goth is currently represented by London-based Storm Model Management. Goth was the covergirl for Vogue Italia's March 2015 issue, shot by renowned fashion photographer Steven Meisel. Later that year, Dazed and Confused featured Goth on the cover of their October issue, as well as in an editorial spread, both shot by British photographer Ben Toms.
Goth also appeared in an ad campaign for Miu Miu's Fall/Winter 2015 line, which was also shot by Miesel.
On the film front, she starred in Stephen Fingleton's bleak sci-fi thriller The Survivalist, which premiered at the Tribeca Film Festival in 2015. Goth's role as Milja earned her a nomination for most promising newcomer at the 2015 British Independent Film Awards.
In the same year, Goth appeared in Baltasar Kormákur's Everest – an ensemble cast that also included Keira Knightley, Sam Worthington, Robin Wright, Jake Gyllenhaal and Zero Dark Thirty's Jason Clarke.
Goth is set to appear in A Cure for Wellness, a supernatural horror film directed by Gore Verbinski — who quite famously tackled supernatural horror once before with 2002's The Ring. A Cure for Wellness is currently in post-production and is set to premiere on Sept. 23, 2016.