What EU Leaders Just Did to Refugees Is Worse Than What Trump Has Said About Them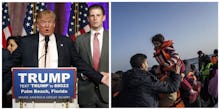 The European Union and Turkey arrived at a deal Friday of how to jointly manage the migrant crisis. Under the terms, the EU will absorb Syrian migrants residing in Turkey, while new refugees and migrants arriving in Europe will be sent back to Turkey. 
In exchange, the EU will expedite the process to pay Turkey the 3 billion Euro promised, and pledges an additional 3 billion by 2018.
"We agreed that all irregular migrants coming from Turkey into Greek islands as from 20 March, this Sunday, will be returned to Turkey," European Council president Donald Tusk said Friday in a statement.
Read more: This Is What a Refugee's Harrowing Escape to Europe Really Looks Like
Tusk confirmed on Twitter an agreement had been reached.
The EU promised to consider extending membership to Turkey for agreeing to the terms of the deal — a membership the Turkish government has sought since 1963.
"We today realized that Turkey and the EU have the same destiny, the same challenges and the same future," Turkish Prime Minister Ahmet Davutoglu said, according to the BBC.
A similar sentiment to the EU's rejection of migrants was uttered in February by none other than Republican presidential candidate Donald Trump. Of those seeking refuge in the United States, "I can look at their faces and say, 'You can't come here,'" Trump recently said.
While Trump's rhetoric was only words, the EU has actualized this concept, turning away refugees and migrants at their doorstep. 
Over 1 million migrants arrived in Europe in 2015, the vast majority seeking asylum from war-torn countries. More than a third of those were from Syria alone, while it, and many other countries in the region, remain in the grips of extremism, violence and political volatility. 
Rejecting fleeing migrants at the border will likely do little to resolve the profound, systemic problems associated with the crisis.