7 High Protein Snacks That Will Keep You Full Through the Afternoon Struggle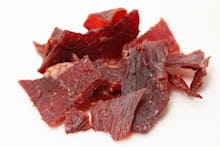 Tannis Toohey/Getty Images
The ugly baby reared by the words hungry and angry, "hangry" is an unpleasant state to be in. Yet, when the clock rolls around to about 3 p.m., there it goes, doing its thing, making us miserable. That afternoon slump is caused by the body's natural circadian rhythm (which regulates sleep), plus not getting enough sleep in the first place makes it even worse, according to Refinery29. Add on the stress from work and it may actually be time to fuel up.
Processed snacks tend to be unhealthy and can contain excess sugar, fat or starch. This can lead to weight gain, increase risks for heart disease and cause tooth decay, Meg Campbell wrote for the San Francisco Chronicle.  
Read more: 7 Healthy Foods That Aren't Actually Good for You — and What You Should Be Eating Instead
Instead, reach for snacks with high levels of protein, which stay in the stomach longer and slow down the body's release of carbs and fat — basically it keeps you full for an extended period of time. The best sources of protein are fish, poultry, eggs, beans, dairy and nuts, according to Harvard University. 
Below are seven high protein snacks that'll power you through the rest of the day.
1. Ants on a log
The old childhood standby makes a good adult snack too, according to Greatist. Just smear about two tablespoons of your choice of nut butter onto celery and top with raisins.
2. Deli rolls
This convenient gluten-free snack consists of wrapping up sliced cheese in sliced deli meat. Add hummus, sliced tomatoes or mustard, too. 
3. Beef jerky
This snack, whether it's beef or turkey, is high in both protein and chewiness. As a bonus, it comes in almost every flavor imaginable. You can even make your own.
4. String cheese
Not only is it super portable but string cheese offers around six to nine grams of protein.
5. Popcorn
Popcorn is a low calorie, whole grain snack — as long as it's not dripping in butter and salt. Although it's light, popcorn actually has fiber too. Sprinkle it with nutritional yeast to up the protein, according to Food & Wine. 
6. Roasted chickpeas
Season with chili powder, fresh herbs and olive oil and salt, and toss them in the oven to roast for a crunchy snack. Chickpeas can be used for more than just hummus. Find the recipe here. 
7. Cottage cheese and fruit
Cottage cheese has a little more protein than its friend, Greek yogurt, according to EatingWell. One cup of cottage cheese has 24 grams of protein.