Paris Attack Suspect Salah Abdeslam Arrested in Brussels, Multiple Explosions Reported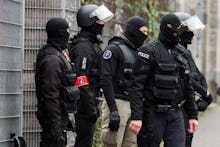 On Friday, the Belgian secretary of state for asylum and migration confirmed that Salah Abdeslam, a suspect in November's Paris attacks, has been shot and arrested in the Molenbeek district of Brussels.
According to the Guardian, the operation was put into action after Belgian law enforcement determined that fingerprints found during a Brussels apartment raid on Tuesday belonged to Abdeslam.
Abdeslam's capture brings to an end a four-month manhunt after the 26-year-old escaped into Belgium by car in the hours following the massacre. Authorities believe Abdeslam helped escort three suicide bombers to the Stade de France, one of the six locations targeted, according to the Guardian.
Several outlets reported that multiple explosions had been heard in the Molenbeek district.
This story is breaking and will be updated.