6 Recipes That Prove You Can Make Almost Anything in a Microwave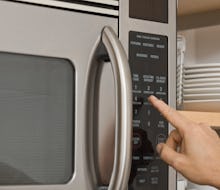 Throw out your stove, oven, grill and fire pit. Seriously, you don't need any kitchen appliances but a microwave. In fact, you could be stranded on a desert island with a microwave (and some ingredients and electricity) and you'd be set. Microwaves can handily make anything from risotto to bacon to cinnamon rolls to ratatouille and beyond.
Read more: 10 Healthy Breakfast Recipes That Actually Taste Good — And Aren't Cereal
Here are six life-changing microwave recipes.
1. Microwave Monkey Bread
All you need is some butter, brown sugar, cinnamon, biscuits, a bundt pan and four grueling microwave minutes to spare while you wait for this gooey, oozing deliciousness to cook. The recipe's here.
2. Microwave Quiche
This light and bright quiche in a mug just needs one minute in the microwave. The recipe's here. 
3. Microwave Mac and Cheese
We're not talking Kraft. We're not talking Annie's. We're talking fresh noodles and fresh cheese melted to perfection. The recipe's here.
4. Microwave Salmon
If cooking fish in the microwave is wrong, what is right? This recipe involves a fresh salmon fillet, some red potatoes, garnishes and parchment paper as a means to steam the fish. And it's healthy, which is refreshing now and then. The recipe's here.
5. Microwave Fried Rice
OK, it's obviously not legitimately fried because that's one of the few cooking methods that lie outside the microwave's abilities, but it's easier to make. It also has bacon. So don't complain. The recipe's here.
6. Microwave Cookie-In-A-Cup
This one speaks for itself. The recipe's here.