Kim Kardashian West's Favorite Waist Trainer Waist Gang Society Is Facing A $5M Lawsuit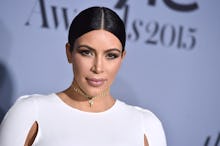 Waist trainer maker Waist Gang Society may have to tighten its belt, as the company is now facing a lawsuit that could potentially cost them up to $5 million. Entertainment Tonight reports that the firm — whose product is endorsed by reality television stars Kim Kardashian West and sisters Khloe and Kourtney Kardashian — is under fire for the way it has advertised and marketed its waist trainers.
The firm is facing a class action lawsuit for alleging its product causes weight loss, which consumers say is a false claim. 
Read more: Mural of Kim Kardashian West's Nude Selfie Defaced With the Word "Slut"
"Despite the knowledge that their advertising and marketing are misleading to consumers, [Waist Gang Society] continues to advertise, distribute, label, manufacture and market the products in a misleading and deceptive manner," reads a statement from the plaintiff, according to Entertainment Tonight. 
However, a disclaimer found on Waist Gang Society's "about" page makes plain that individual results of waist training may vary.
"Please be advised that results vary depending on weight, height, usage of product, diet and exercise regiment," reads the disclaimer. "This product carries no weight loss guarantees."
Waist trainers have become something of a fad, though the health effects of waist cinching has been called into question. Some health experts have called it out as an ineffective way to lose inches around the waist.
"Medically, it doesn't make sense that cinching your waist tightly will make it permanently smaller," Yale School of Medicine clinical professor Dr. Mary Jane Minkin told Women's Health. "Once you take the garment off, your body will return to its usual shape. It's also uncomfortable, restricts your movements, and if you wear it really tight, it can even make it difficult to breathe and theoretically could cause rib damage."
As of press time, Waist Gang Society had made no public mention of the lawsuit.