5 Quick and Easy Meals You Can Make in a Skillet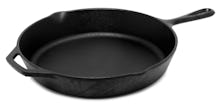 Is Seamless taking too long? Conversely, are you broke from ordering too much Seamless? You're not alone; a 2014 study found that millennials, in comparison to baby boomers, order a ton of food online due to its ease and convenience. 
A big part of delivered food being easy and convenient is that you don't have to deal with dirty dishes; the Washington Post reported earlier this year that millennials will skip a bowl of cereal in the morning simply because they don't want to wash the bowl afterward. But when you're broke, or need to cut back on frivolous spending, you have no choice. Here are five meals you can make in one skillet.
Read more: 5 Healthy Breakfast Ideas That Take Less Than 10 Minutes to Make for the Busy Millennial
Frittata with tomatoes
The Better Homes and Gardens frittata recipe is a good way to get rid of the carton of eggs hiding in the back of your fridge. Don't feel tied down to the tomatoes either; frittatas, in general, are a good place to dump all your leftovers into.
Skillet ravioli lasagna with spicy Italian sausage
Delish's skillet lasagna is genius due to the ravioli hack; no need to boil lasagna noodles in a separate pot — which is another way of saying no need to wash another pot.
Loaded smashed potato skillet
The recipe for cheesy loaded smashed potatoes from the blog Seasons and Suppers in a skillet is just as delicious as a loaded twice-baked potato, but isn't as labor intensive.
Cheeseburger macaroni skillet
The Big Bear's Wife blog touts this recipe for cheeseburger macaroni as a "homemade Hamburger Helper." And before you ask: No you do not need a separate pan to boil the pasta.
Skillet Bourbon, peach and blueberry crumble
Yep, you can even make desserts in a skillet. With this recipe for bourbon, peach and blueberry crumble, courtesy of the blog Home Is Where the Boat Is, you won't have to choose between a dessert and a digestif!