Where, Oh Where, Is the Marcia Clark and Christopher Darden Fanfic the World Deserves?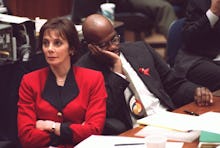 In the ongoing saga of FX's The People v. O.J. Simpson: American Crime Story, the sexual tension between attorneys Marcia Clark (played by Sarah Paulson) and Christopher Darden (played by Sterling K. Brown) is thicker than a freshly blended McCafé Shamrock Shake.
They speak to each other in fervent tones, often using legalese. They look at each other with intense stares of lust. They get drunk, slow dance and almost kiss — but then don't! They stumble into heated arguments that are evocative of the most impassioned lovers' quarrels.
It remains a mystery as to how far the Clark/Darden team actually took their relationship IRL, and listen, we're not here to speculate on the nonfiction version of events. What we are here to do, however, is ask one very important question:
Where the hell can we get some good Marcia Clark/Christopher Darden fanfiction?
WHERE?
Seriously, does anybody know?
We need this.
Maybe Google?
Nope; nothing.
Fuck you, Google!
Maybe Twitter user @JJones6 can help us.
Are you JK-ing or what, @JJones6? Do you really have some Marcia Clark/Chris Darden fanfic to share with the class? Because if you do, you should know that we do indeed enjoy legalese double entendres. And you should also know that it is your civic obligation to do so.
BE A GOOD AMERICAN and SHARE YOUR MARCIA CLARK/CHRIS DARDEN FANFIC WITH THE CLASS, @JJones6! You're our only hope!
Thank you.