DJ Khaled's Snapchat Cult Is Very Real — And Actually Makes for an Inspiring Live Show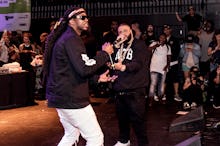 AUSTIN, Texas — Even those who have never sent a snap in their life likely know that among Snapchat's 100 million daily users, there is but one king: DJ Khaled.
With canned wisdom and impossibly earnest delivery, the hip-hop executive producer, rapper and music mogul has built himself a veritable empire on the platform, creating one of the most entertaining destinations on social media. Through the power of [prayer emoji], he's narrowly survived a Jet Ski marooning, inspired thousands of fans to pay close attention to their personal hygiene and uncovered all the major keys to success. 
None of that necessarily means he would be anywhere near as fun to see as a live act. He doesn't really rap and rarely crafts his own beats. Some internet phenomenon should never cross over to real life. DJ Khaled, let it be known, is not one of those things.
Thursday night, DJ Khaled helped close out Mass Appeal's Live at the BBQ showcase at the South by Southwest Music Festival in Austin, Texas. Despite doing little himself — sticking to introducing surprise guests and rapping every 16th-or-so word to hits he doesn't actually rap on — he set the place ablaze. 
A sea of adoring fans snapped his every move as he brought out Wyclef Jean, Bun B and 2 Chainz. He capped the night by bringing out Queensbridge god Nas himself.
"They don't want me to bring out Nas!" Khaled shouted to the crowd to wild [applause emoji]. "So what am I gonna do? I'm gonna bring out Nas!" 
However, when Khaled left the stage after snapping Nas through his opening number, the momentum of the show experienced a huge dip. 
Even when playing his biggest hits — verses that essentially wrote the course of hip-hop history itself — Nas could not keep the crowd going the way Khaled could.
In an Instagram post later in the evening, Nas unwittingly admitted that Khaled was the one who headlined the showcase, despite Nas' top billing.
To the die-hard hip-hop head, this may seem a sad state of affairs. A man who is essentially a glorified hype-man, a literal embodiment of oft-maligned #hashtag rap grabs bigger headlines than the genre's true legends. But it's not so bleak.
Without any of the "surprises" he brought out, Khaled's set would have been impossibly empty. But he can draw these names to him because he is something that is extremely necessary in today's overcrowded music space: DJ Khaled is music's greatest social media manager. The boldest A&R to ever do it.
Khaled calling Jean onstage, or calling out Lil Boosie, who was sitting up in the crowd, is the equivalent of a real-life retweet. As hilarious as his signal boosts might seem on the surface, they're clearly sought after — and that should be inspiring to anyone looking to enter a creative field. 
DJ Khaled does not have any preternatural talent. With confidence and charisma, almost anyone can do what DJ Khaled does. Many might be able to do it better. That only makes his vaguely motivational keys to success that much more inspiring. They don't want you to take DJ Khaled seriously. But it might be time that we start.