Another Terrorist Attack in Turkey Kills 5, Wounds Dozens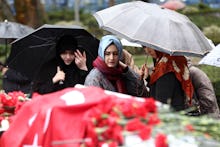 A suicide bombing in Istanbul on Saturday killed at least five people, including the attacker, and wounded at least 36 others, Reuters reported.
"The blast sent panicked shoppers scurrying into side alleys off Istiklal Street, a long pedestrian avenue lined with international stores and foreign consulates, a few hundred meters from where police buses are often stationed," Reuters wrote.
Two U.S. citizens were among the dead, the White House confirmed later in the day.
The bombing is the fourth attack to hit Turkey in 2016 thus far. Authorities told Reuters the attack was likely the work of Kurdish nationalists or the Islamic State of Iraq and Syria (ISIS). According to the Guardian, more than 200 people have died in five major bombings since July 2015, including an attack in Ankara last week which claimed at least 37 lives.
Turkish President Recep Tayyip Erdogan recently called for a major expansion of anti-terrorism laws, telling press he considered there to be no difference between "a terrorist holding a gun or a bomb and those who use their position and pen to serve the aims." In early March, courts ordered police to seize control of Zaman, the country's largest newspaper.
"Terrorism once again showed its ugly and treacherous face, and targeted civilians," Turkish foreign minister Mevlüt Cavusoglu said, according to the Guardian. "Our struggle against terrorism will continue in the most decisive manner and on all levels, both here and abroad. We expect the whole world, first and foremost Europe, to cooperate with us in the fight against terrorism."
On Twitter, Turks and others paid their respects using the hashtag #PrayForTurkey. Many criticized an apparent double standard — the relatively mute reaction of the media following recent acts of terrorism in Turkey compared to the global uproar following similar massacres in Paris last year.
Update: March 19, 2015 at 5:11 p.m.
This article has been updated with additional information about casualties.