Air Disaster Strikes Russia as Flydubai Flight Z981 Crashes at Airport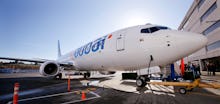 Sixty-two people are dead after a Flydubai Boeing 737 crashed into the ground at Rostov-on-Don Airport in southern Russia on Saturday, reports CNN.
According to CNN, flight #FZ981 took off from Dubai before encountering poor visibility and high winds at its intended destination in Russia. After circling the airport for approximately two and a half hours, an attempted landing at 3:50 a.m. resulted in the plane impacting the ground approximately 800 feet from the runway.
Among the dead are 55 passengers and seven crew.
Footage posted by Russia Today, a state-funded broadcaster, showed the moment the plane exploded, as captured by a nearby surveillance camera.
The news agency also posted what it identified as the flight radar route of the plane, which showed its circuitous route above the airport while looking for an opportunity to land.
"We are looking into two main theories for the plane crash," Investigative Committee of Russia member Oksana Kovrizhnaya said, according to Reuters. "Pilot error in connection with deteriorating weather conditions or a technical error."
Despite a spate of high-profile air disasters in recent years, air travel remains quite safe compared to other methods of transportation, and the number of such incidents has generally trended downward over time.