25 Photos and Videos From the Massive Anti-Trump Rallies in New York and Arizona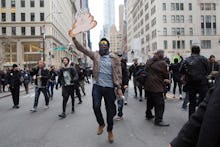 Activists held rallies in opposition of Republican presidential front-runner Donald Trump on Saturday, spreading photos using the hashtag #DumpTrump and staging disruptions in New York and Arizona.
CBS New York estimated the crowd to be in the thousands, with demonstrators meeting at Columbus Circle before heading towards the real estate billionaire's Fifth Avenue skyscraper, Trump Tower. The protesters denounced Trump for his long track record of offensive statements about minorities, women, the disabled and others, and mocked his well-known persona.
In one moment that caught particular notice on Twitter, Alternet's Adam Johnson uploaded a video of a white Hillary Clinton supporter arguing with a black attendee over whether it was appropriate to promote her campaign at the rally.
But elsewhere at the rally, most of the focus seemed squarely on Trump and his fitness for the office of the presidency rather than any particular competing candidate.
Authorities arrested several people in connection with the incident.
A small number of Trump supporters held their own counter-demonstration, with one man waving a sign that said their opponents were funded by billionaire George Soros.
"Trump's policies threaten many of us in the Black, Latino, LGBTQIA+, Muslim, and other communities," the organizers of the rally wrote on Facebook. "These policies and type of speech has no place in this country, and certainly does not have a place in the city that Trump grew his empire in — a city known as a melting pot and home for many of the same people Trump continues to wage war on."
Meanwhile, several dozen protesters rallied on a major road leading to the Fountain Hills venue in Phoenix, Arizona, the Guardian reported. There, a few dozen activists suspended traffic, resulting in the delay of a scheduled Trump appearance.
Protesters also set up shop outside the venue near Phoenix, with one sign comparing Trump to the minions from Despicable Me.
Authorities warned the protesters in Arizona that they may face arrest for taking their demonstration onto the roads. Meanwhile, back in New York, Fox News reporter Bryan Llenas said the crowd was making it clear they intended to launch larger protests against the candidate when he returned to the city to campaign.