Kelly Rowland Says We Need More "Chocolate Women" in Music: "It's So Necessary."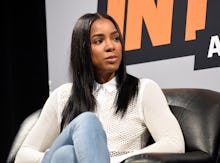 AUSTIN, Texas — Kelly Rowland has got thoughts about representation in today's pop — a lot of thoughts.
During her onstage interview at this year's South by Southwest, Rowland took time to answer an audience member's question. It wasn't about her time in Destiny's Child; it wasn't about Rowland's new show Chasing Destiny, which is seeking the next great girl group. It was a simple request for advice.
A young black girl asked Rowland how she could best help a family member who had recently been told by a former crush that she would be really pretty if she wasn't so dark-skinned. The girl said it had her crying for weeks, and it brought out a serious fierceness in Rowland that had laid dormant the whole interview. Rowland said stories like this are why we need more dark-skinned women in music.
"I feel it's so necessary — forgive me if I get emotional — for my niece, my unborn kid if I do decide to have another one and they come out chocolate," Rowland said. "She has to see more chocolate women all in front of her. Because the truth is we have one in Fifth Harmony. We have... We have... Do you catch me?"
The audience cheered in agreement.
"I want to be a part of changing that," Rowland continued. "Whoever looked at Janet [Jackson] and said, 'Oo I love her and all her chocolatiness,' you a genius, honey. Janet did it for me. Whitney did it for me. Michelle Obama does it for me!"
"That's what I respected the most about Destiny's Child," Rowland added. "You saw the chocolate one, you saw the one that was in-between and you saw the fairest one."
Obama actually spoke earlier in the festival and made the same call for more women and diversity in positions of power during her panel with Missy Elliott and Queen Latifah. Both Elliott and Latifah agreed there needs more women in hip-hop to infuse more creativity into the genre and inspire more young girls to find their voices.
"Tell her she is more than worthy, more than everything," Rowland said, summing up her advice to that girl. "She is a queen. She is a goddess. And tell her she don't need no dude to tell her that. She needs to know that with every fiber of her being."