Protester Punched, Kicked by Donald Trump Supporter at Tucson, Arizona Rally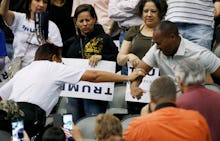 In what seems to be a recurring theme at this point, another protester of 2016 presidential candidate Donald Trump caught a vicious beatdown on Saturday at a rally in Tucson, Arizona, according to the New York Daily News. Alleged attacker and Trump supporter Tony Pittway, a black man, sucker-punched Bryan Sanders, a white Trump protester, while he was being escorted out of the building. 
"I feel great that I'm not dead, but I am definitely in physical pain," Sanders, 33, told the Daily News. "I have nothing against the guy that attacked me. I don't know him. He's just an angry person and his anger is being accentuated by the political movement."
Read more: Video of Black Man Sucker-Punched Is Latest in Violent Acts at Trump Rallies
In October, a Trump supporter spit in the face of an immigration activist during a Trump rally in Richmond, Virginia. On March 10, a black protester was punched in the face at a Trump ally in Fayetteville, North Carolina. 
Some blame Trump for enticing violence against protesters. "These are not the people that made our country great," the GOP frontrunner said to a group of protesters who were forcibly removed from a rally in St. Louis. "Go home and get a job."
"I was also here at the Bernie Sanders rally last night," Bryan Sanders told the Arizona Daily Star. "Nobody got punched, nobody got thrown out, there were no protests and the reason is that there's two different things going on here. You've got this [Trump rally], which is fascism and an angry mob, and then you got what happened last night with Bernie, and that's democracy right there."
March 20, 2016, 11:07 a.m.: This article has been updated.