Topless Woman Interrupts Bernie Sanders at Phoenix Rally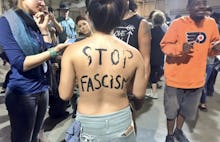 Feel the Bern, free the nipple. Such is the effect Vermont Sen. Bernie Sanders has on fans, as demonstrated by the topless interlude staged at the candidate's rally in Phoenix, Arizona on Saturday. As the Washington Post reported, Sanders was mid-discussion of Wall Street reform when Los Angeles local Anni Ma popped up over the crowd, only briefly distracting him from the topic at hand with her naked chest. 
Read more: These Politicians Want to Ban Women's Nipples, Fear Allowing Toplessness Will Escalate
"Stop fascism," her back read, "hate speech is not free speech" painted across her front. According to the Post, she "also sported two strategically placed 'Free the Nipple' stickers" over her areola. As pasties.
Her message, the Post reported, wasn't aimed at Sanders, whom — according to the caption on her Instagrammed action shot — she supports, perhaps because of his history of supporting women who show skin at his rallies. Pure speculation, but as her Instagram profile indicates, the right to #FreeTheNipple is near to Ma's heart.
Rather, Ma had intended to bare her breasts at a rally for Republican frontrunner Donald Trump in Fountain Hills, Arizona. Like-minded protesters, however, had previously attempted to cut off access to that event, forming a barricade of cars across the highway and preventing Ma from bringing her message all the way to Trump. 
Not wanting to waste good paint, we guess, Ma instead rerouted for the Sanders event where she was one of many super-enthused Sanders supporters in an audience of approximately 3,350, according to the Phoenix New Times. Others in the crowd expressed their excitement by tossing their toddlers in the air; Ma tossed her top at the stage, the New Times reported.
The Arizona rallies set the stage for the state's primaries on Tuesday, March 22. Currently, Trump is ahead of his GOP opponents, Texas Sen. Ted Cruz and Ohio Gov. John Kasich, by an average of 13 percentage points, and looks poised to take the party's 58 delegates in the state's winner-take-all contest. Sanders, meanwhile, is about 30 percentage points behind Democratic frontrunner Hillary Clinton in Arizona. 
Whether or not freely waiving nipples can tip the scales in his favor remains to be seen.