EMS Supervisor Fired After Posting "Kill the Little Criminal" About Tamir Rice on Facebook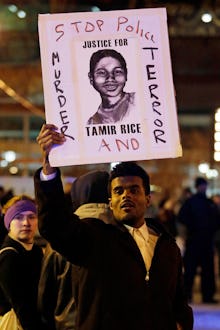 A Cleveland EMS supervisor was fired for allegedly voicing his pleasure in a Facebook post that 12-year-old Tamir Rice, a black boy who was fatally shot by a police officer in November 2014 for playing with an airsoft replica gun, was killed. 
"Tamir Rice should have been shot and I am glad he is dead," Jamie Marquardt allegedly wrote, according to the NY Daily News. "I wish I was in the park that day as he terrorized innocent patrons by pointing a gun at them. I am upset I did not get the chance to kill the little criminal."
Read more: Tamir Rice's Mom Hasn't Endorsed a Presidential Candidate — Here's Why
Marquardt was terminated Tuesday for his inflammatory comments. "The posts were not acceptable and do not represent the views or standards of the City of Cleveland administration, Department of Public Safety or Division of Emergency Medical Services," city spokesman Dan Williams told Cleveland.com.
The former Cleveland city employee denied that he was responsible for the Facebook post, claiming that "someone picked up my phone and made some awful posts under my name. I want to apologize for those who thought it was me."
"I did not do it," Marquardt told the New York Daily News in a statement. "I presented evidence to the city of [Cleveland] that I did not do it. They fired me simply because it was on the news. They have no evidence I did this."