5 Times Women Taught the World About Feminism on Twitter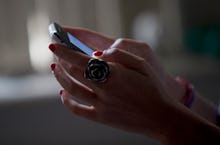 As any woman with an internet presence knows way too well, the Twitterati have a lot of feelings about things of seemingly little consequence and one big, anonymous bullhorn at their disposal. Often, this amounts to a lot of targeted cyberbullying and harassment, which makes the following five instances of Twitter feminism particularly productive, and worthy of applause and repetition. 
When the internet's claws came out and set to tear apart women for reasons unwarranted, these individuals fired back, putting the sexist trolls, the mansplainers and the body-shamers in their place. 
Read more: Justin Trudeau Doesn't Want a Cookie for Being a Male Feminist, Okay?
Thanks, feminists of Twitter. We salute you and everything you do. Don't let the haters get you down.  
Rowan Blanchard defended Kim Kardashian West's nude selfie  
And did so for all the right reasons. When Kim Kardashian West tweeted a picture of her naked bod on March 7, the internet — predictably — freaked out. The usual trolls, plus some unexpected celebs — Bette Midler, Chloë Grace Moretz and Piers Morgan — seized the chance to shame the reality TV star. 
But Rowan Blanchard, wise-beyond-her-years teen that she is, was having none of it. "Why are feminists mad at Kim K 4 consensually posting a pic of her own body — nonconsensual nudes are leaked all the time by abusers and u are mad at a woman being proud of and happy with her own body?" she tweeted, praising Kardashian West for demonstrating how "to be accepting of yourself" and how "to gain control of your own image: something girls have never had." Bravo, Blanchard.
Zendaya called out Manstagram for sexist trolling
In June, teen celeb and general boss Zendaya spotted some casual sexism from misogynist Twitter presence Manstagram and called it out. Manstagram posted side-by-side pictures of beauty vlogger Shannon in no makeup and in full makeup; the caption read, "This is why our first date is running a mile around the track to see if you sweat the makeup off."
Zendaya, with whom the perpetuation of unrealistic female beauty standards does not sit well, responded with her own no-makeup selfie, tweeting "that awkward moment when this tweet is irrelevant cause she's slaying both ways." The photographic evidence backed her up; Zendaya FTW.
Emma Watson offers her thoughts on white feminism
In October, a Twitter user took to the platform to ask UN Women goodwill ambassador, pilot of the HeForShe campaign and British actor Emma Watson whether or not she considered herself a white feminist. Watson took the opportunity to offer a thoughtful response in which she noted both the importance of intersectionality in feminism and the utility of her privilege in leveraging it.
"I can't speak on behalf of intersectional feminists specifically but I can use my platform to give those that do have personal experience a spotlight," she wrote. "And I see this as my role — to speak to my own personal experience and to amplify the experiences of other people. ... I want to hear as many voices as possible, I want to hear other people's stories. This is a universal and global movement."
And that's why we're so glad you're helping to lead it, Emma Watson.
A newscaster claps back at trolls who questioned her parenting abilities
In January, Susan Keogh of Ireland's Today FM was trolled by an internet man who took issue with her having both a career and a kid. Her response? The below letter, in which she explains that she works both because it's personally fulfilling and "to provide a better future for [her] daughter." 
"I don't have a career to show her she can have one too," Keogh wrote in her Twitter response. "She can do what she pleases. And I guess that's why I do it. I want to show her that she can make choices. I want her to be confident enough to make the right ones for her. I want her to choose happiness."
International Women's Day raises important questions, and women rise to answer them
Such as: "Where the fuck is international men's day?" Even before #InternationalWomensDay started making the Twitter rounds on March 8, some Twitter dudes were feeling the deep injustice. 
Some acknowledged the nobility in a separate day for women and all that, but complained that if there were a similar holiday for men (there is, and it's not just every other day), the feminists would torpedo it faster than you can say "male privilege."
Luckily, the women (and better-informed gents) of Twitter were paying attention, and quickly offered up some handy facts to assuage this manly grief. International Men's Day will fall on Saturday, Nov. 19 in 2016. The truth, it hurts sometimes.