Trump Campaign Denies Manager Corey Lewandowski Grabbed Protester's Neck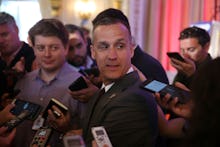 Donald Trump's presidential campaign has formally denied accusations Corey Lewandowski, the campaign manager who drew the ire of the media after Breitbart reporter Michelle Fields accused him of assaulting her at a rally, grabbed a protester by the neck at a campaign event in Tucson, Arizona on Saturday.
CBS News' Jacqueline Alemany posted video of the newer incident to Twitter, saying it was clear evidence of the campaign manager's involvement.
Lewandowski, who is seen wearing a suit and purple shirt, appears to be the one who reaches in and grabs the man by the neck, prompting the protester to turn around and shove a security official also present amid the crowd of demonstrators.
But in a later statement, Trump's campaign insisted the other security guard was the one who the protester was reacting to, not Lewandowski.
On Sunday, Trump addressed the allegations directly in an interview with ABC's George Stephanopoulous. He denied Lewandowski grabbed the protester, but added "I give him credit for having spirit. He wanted to take down those horrible, profanity-laced signs."
As the New York Times notes, an anti-protester detail would be "an unusual role for a campaign manager, but Mr. Trump's rallies have been anything but usual. Most are disrupted several times by demonstrators who are then ejected by security personnel or law enforcement officers."
That's somewhat of an understatement. Said ejections have regularly resulted in violence, and video has captured many instances in which Trump's supporters have punched or otherwise assaulted protesters at his events.
According to Politico, Lewandowski's behavior in particular has led to some concerns among Trump personnel and staffers at his previous place of employment, the Koch brothers-backed Americans For Prosperity group.
During his tenure with both organizations, "complaints emerged about Lewandowski being rough with reporters and sexually suggestive with female journalists, while profanely berating conservative officials and co-workers he deemed to be challenging his authority," the site wrote.
"He can get really hot headed at times," a campaign reporter told Politico.
Update: March 20, 2015 at 1:41 p.m.:
This article has been updated to include comments from Donald Trump.