Black Woman Holding Fake Gun Killed by Police in Virginia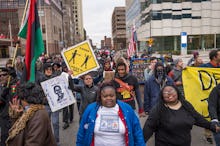 India M. Beaty, a 25-year-old Virginia woman, was fatally shot Saturday by two Norfolk police officers after making a "threatening motion" with a fake gun, according to WVEC. 
Beaty was arguing with a man shortly before pulling out what looked like a handgun to threaten him, police said. Norfolk police officers, who were in the area, rushed over and gave Beaty "verbal commands" to drop the gun, according to a police statement. 
After making a "threatening motion" with the handgun, the two officers shot Beaty, killing her despite first-aid efforts. It wasn't until after the shooting that the officers realized the woman was brandishing a fake weapon. 
Read more: Black Officer Ken Johnson Arrested in Fatal Shooting of Latino Teen Jose Cruz
"Any loss of life is tragic," Norfolk Police Chief Michael Goldsmith said in a statement, according to the Virginian-Pilot.
"My thoughts and prayers go out to Ms. Beaty's loved ones, and we appreciate the public's patience as we continue to investigate." The officers, currently on administrative duty while the shooting is investigated, will not have their names released during the investigation. 
In 2015, police officers in the United States have killed at least 28 people with weapons similar to the one 12-year-old Tamir Rice held when he was fatally shot by police, according to the Guardian. John Crawford III, 13-year-old Andy Lopez, Paul Gaston, Tiano Meton and other individuals have been fatally shot by police in pellet gun-related incidents. There appears to be a pattern. 
There seems to be a double standard in the tactics used to subdue persons of color and white people. In 2014, a police officer asked 63-year-old Joseph Houseman to put down his gun so they could talk, after shouting at people with a rifle, in front of a Michigan Dairy Queen. In December 2014, two drunk white men shot up an Idaho Walmart with BB guns, and were taken into custody without incident. There are a number of stories like these. 
The Washington Post also noticed the contrast between the Planned Parenthood shooter Robert Lewis Dear and Charleston church shooter Dylan Roof, when compared with Tamir Rice and John Crawford III, who were shot as soon as law enforcement appeared on the scene. 
Beaty, who was engaged, is the third person this year to be fatally shot by Norfolk police, according to the Virginian-Pilot.