Donald Trump Says Protesters Are Partially to Blame for Violence at Rallies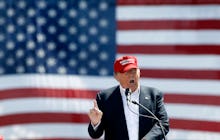 Who to blame for the increasingly frequent clashes at Republican frontrunner Donald Trump's rallies? The candidate himself, whose promise to pay the fine for anyone charged with assault at his campaign events could be seen as incitement to riot? His legions of supporters who then throw the punches? Or are those on the receiving end responsible? As Trump told George Stephanopoulos on ABC's This Week, the protesters are to blame — at least in part.
Read more: Donald Trump Is Considering Paying the Legal Bill of Supporter Charged With Assault
"They're really stopping our first amendment rights," Trump told Stephanopoulos, speaking about the people who "stand up and try and disrupt" his rallies. He went on to explain that the individuals who blocked the main transit vein to his Fountain Hills, Arizona rally on Saturday stirred up agitation with their peaceful protest, although violent reaction was at a minimum during the address. 
"So, you're blaming the protesters, not the person who actually punched and kicked the protesters?" Stephanopoulos asked.
"No, I'm saying this, these are professional agitators, and I think that somebody should say that when a road is blocked going into the event so that people have to wait sometimes hours to get in, I think that's very fair, and they should be blamed there, too," Trump responded.
The most recent rash of Trump rally violence occurred Saturday night in Tucson, Arizona, when a protester appeared in the crowd sporting a Ku Klux Klan hood. She was quickly removed, but Bryan Sanders, whose sign featuring a picture of the candidate's face against a confederate flag sent a similar message, received the physical wrath of Trump supporter Tony Pittway. 
Similar incidents occurred last weekend, at Trump events in Chicago and St. Louis; violence is fast becoming a synonym for "Trump rally." But the thing is, standing up and demonstrating one's discontent with the current political narrative doesn't qualify as trampling first amendment rights. Rather, peaceful protesters are exercising their first amendment rights, and have just as much right to do so as Trump claims he does to speak his mind, however racist it may be. 
Trump may see protesters' signs and rhetoric as examples of "tremendous profanity," as he told Stephanopoulos, but at the end of the day, the only people trampling free speech at his rallies are those throwing to the ground and beating their political opponents, whose opinions they don't want to hear.