Flint's Police Chief Calls Break-In At Office Storing Water Documents an "Inside Job"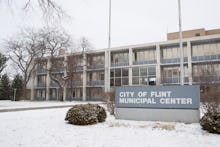 Suspicions are growing regarding a mysterious break-in at the city of Flint, Michigan's city hall, where an office containing documents relevant to the city's ongoing crisis with contaminated water were stored.
Flint's new police chief, Tim Johnson, more or less made the implication the two events are linked on Friday, telling the Flint Journal the robbery was an "inside job."
"It was definitely an inside job," he told the site, noting only a television has been confirmed to be among the missing items. "The power cord (to the TV) wasn't even taken. The average drug user knows that you'd need the power cord to be able to pawn it."
"It was somebody that had knowledge of those documents that really wanted to keep them out of the right hands, out of the hands of someone who was going to tell the real story of what's going on with Flint water," Johnson continued.
His opinion was echoed by Mayor Karen Weaver, who confirmed she also thought the timing and target of the robbery curious.
"Well sure (it's suspicious) when they go into a room where all the water files were and they take a TV, but not the cord to make it work, yes," the mayor told the paper. "... We don't know if papers or files were taken because papers were all over the floor."
As the Washington Post notes, mere days after the break-in, the federal government began investigating Flint's water situation as the extent of the pollution across the city became clear.
According to the New York Times, some experts believe as many as 8,000 or more children may have been exposed to dangerous levels of lead after the city chose to stop buying safe water from the city of Detroit and instead pump water out of the notoriously polluted Flint river. 
Safeguards that might have kept supplies of drinking water safe were not implemented, though it is not yet entirely known why. Meanwhile, emails obtained by congressional investigators show some Environmental Protection Agency officials warned resolving the crisis would send a bad message about fiscal responsibility.
In the meantime, Detroit News reports Flint residents are starting to build a class action case against the city, which may eventually include up to 30,000 households affected by the water contamination.