ISIS Rocket Attack Reveals Unacknowledged U.S. Marine Deployment in Iraq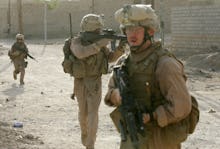 CNN reported on Sunday that a U.S. Marine slain in a Saturday rocket attack in northern Iraq, Staff Sgt. Louis F. Cardin of Temecula, California, was deployed there as part of the first (and previously unknown) U.S. fire base established in Iraq in the fight against ISIS.
According to CNN, its reporters learned from a defense official that the Pentagon "planned to acknowledge the firebase," as well as the deployment of regular U.S. ground troops against ISIS in a support role with Iraqi troops, sometime "this week." Currently, forces on site comprise a "couple of hundred" Marines deployed with artillery. U.S. forces believe ISIS fighters saw the Marines "firing practice rounds with their howitzers."
The last combat troops deployed as part of the U.S. military occupation of Iraq beginning in 2003 were pulled out in 2011. However, as the country's security situation deteriorated and ISIS took over large stretches of Iraq, including major cities, the U.S. has again taken a lead role in the coalition of regional governments supporting the government in Baghdad.
In December 2015, Foreign Policy's Paul McLeary wrote U.S. special forces were likely heading back into Iraq. Defense Secretary Ash Carter told reporters the elite troops "will over time be able to conduct raids, free hostages, gather intelligence, and capture ISIL leaders ... [and be] focused on defending its borders and building the [Iraqi Security Forces] own capacity. This force will also be in a position to conduct unilateral operations into Syria."
While Marines have been deployed to Iraq alongside those special forces in the past year, previously acknowledged roles have mainly included diplomatic security and training Iraqi forces.
According to the Marine Corps Times, a fresh detachment of Marines with the 26th Marine Expeditionary Unit are already heading to Iraq following the rocket attack.
Update: March 20, 2016 at 5:28 p.m.
This article has been updated to include additional context on ongoing U.S. Marine Corps operations in Iraq.