Adele's Family Hacked by Fan, Personal Photos Shared Online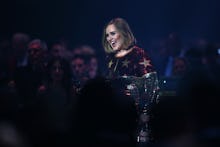 English singer-songwriter Adele may be one of the largest pop superstars in the world right now, but that doesn't mean she likes having her personal business spread across the internet. Much of the singer's personal life is kept private, and the singer works especially hard to keep her fiancé, Simon Konecki, and their son Angelo out of the spotlight.
However, the 27-year-old 25 artist's personal information was recently uncovered and shared by a hacker, possibly an obsessed fan, according to the Sun. The fan allegedly hacked into Konecki's email and accessed intimate family photos, including images of an ultrasound when Adele was five months pregnant with their now-3-year-old son.
Read more: Adele Doesn't Care About Her Son's Sexuality, Will Love Him No Matter What
The private photos, which were spread on a Facebook fan page, were reported to Adele's managing company by a fan who "was appalled and upset for Adele" when they saw the images. 
"They are really private and should not be passed around," the fan, who remains unidentified, told the Sun. "I think it is disgusting that her so-called fans were sending them around and I thought it should be stopped. They are way too private, especially the scan and picture of her when she was pregnant. If Adele wanted to share these pictures, I am sure she would."
Other images that were released on the Facebook page included the singer lying in bed with a cigarette and bottle of champagne, a childhood photo, Adele during her pregnancy, and even photos of her son as a newborn baby.