Viral Meme of Kanye West Making Out With Himself Inspires a Mural in Melbourne, Australia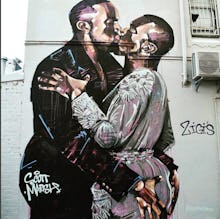 Art imitating life? Or just the growing influence of internet culture? Last week, Melbourne, Australia artist Lush Sux recreated Kim Kardashian West's internet-breaking nude selfie as a 30-foot mural on a local wall. So that husband Kanye West would not feel shorted — or because he wanted to bestow Sydney with a public art conversation piece — Australian artist Scott Marsh has turned a viral meme into an enormous mural in Sydney's Chippendale district. 
Sweet, sweet Kanye-on-Kanye loving for all to enjoy. 
Read more: Mural of Kim Kardashian West's Nude Selfie Defaced With the Word "Slut"
"Isn't there something calming about how at peace Kanye looks with his hands firmly planted on his own ass?" Cole Delbyck of Huffington Post wrote. "That's true love."
"No one can love Kanye quite like Kanye," Marsh said in a Saturday Facebook post.
So true. The mural, which graces the wall of lucky local establishment Zigi's Wine & Cheese Bar, measures a respectable 20 feet, according to Huffington Post. Kardashian West's, it should be noted, was a full story taller, so West is still getting shorted. 
What's more likely to anger him about the stunt, though, is its subject matter — the rapper tried and clearly failed to rid the internet of the meme in 2015. 
While West's financial state may not be such that he can fund the mural's immediate removal, one wonders if it will meet the same fate as the building-scale portrait of his wife. One also wonders what internet sensation will capture the eye of Australian graffiti artists next — Kardashian West's crying face, perhaps?