Obama's Historic Arrival in Havana Met With Excitement, Skepticism by Young People of Cuba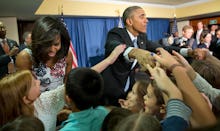 HAVANA — To say that the excitement on the streets of Havana is palpable would be an understatement.
At long last, the people of Cuba watched the historic arrival of President Barack Obama and his family on Sunday afternoon, marking the first visit by a U.S. president to the country in over 80 years.
"This is a very important moment for Cuba, an opportunity for the country to change," Sariel, a 23-year-old Cuban who asked only to be identified by his first name, told Mic. "People are awaiting Obama's visit with excitement. My friends all agree this is a huge thing."
Sariel said he has been eagerly anticipating this moment for months and plans to celebrate with his friends on the streets later on Sunday once President Obama arrives.
Obama is scheduled to take a walking tour of Old Havana Sunday evening, ahead of a bilateral meeting with Cuban President Raul Castro and a range of human rights activists on Monday. The highlight, however, will be Obama's address to the nation, scheduled for Tuesday morning, in which he will talk directly to the Cuban people and discuss the historic opening of relations between the two countries.
I spent Sunday morning touring Old Havana, interviewing young people in the city's markets and public parks. The vast majority of the people I met are enthusiastic and intrigued, and say they believe Obama's visit will be a positive development for Cuba.
"This is a great moment for the nation," Amy Martinez, 29, a jewelry vendor at a local market told Mic. "I believe the opening of relations with the United States will benefit the nation."
Others said they are slightly nervous for what the future holds, even though they believe that change will be positive. "We are nervous, because we don't know what to expect, but in the end we feel this will be a great moment for the country," Aceite, 37, who wished to be identified by his first name, told Mic.
But in sharp contrast to their excitement are the harsh realities of life in Cuba today. Even as the frost between our nations shows the first few signs of thaw, most Cubans whom I spoke with were reluctant to speak using their full names — a small, but foreboding sign of the major obstacles which remain if the country is to become an open democracy.
Even filming video on the street seemed to raise eyebrows, with some Cubans saying they were reluctant to talk to me because they feared repercussion from the authorities.
Too often, you can see the roots of the Cuban people's fears before your eyes.
On Sunday morning, police rounded up a group of protesters called the Ladies in White, made up of the wives of former political prisoners, and loaded them into buses outside a church in Havana. The treatment of the group, which reportedly holds protests against the government every Sunday, attracted the attention of the large delegation of foreign press here for Obama's visit and casted an ominous shadow just several hours ahead of his scheduled arrival.
For his part, President Obama believes that engagement, not isolation, will put the United States in a better position to pressure the Cuban government to change. He will be meeting with a range of human rights activists and dissidents while in the country to show his commitment to pressuring the government to change.
But Obama has drawn sharp criticism from Republicans like Florida Senator Marco Rubio for that position. Rubio and others, like Republican presidential contender Ted Cruz, believe normalizing relationships with the country while Cuba routinely ranks among the lowest countries in the world for human rights and freedom of the press contradicts America's values.
Several Cubans whom I spoke with dismissed Rubio outright and said they are ready to move on from the policies of the past.
"It is time for a new relationship, and an opening. We need to forget about the past. We think things are going to get better," Elder, 34, told Mic.
But the pressure is on. So much is riding on Obama's speech to the nation on Tuesday, which marks the first step for him to deliver on his promise and prove that diplomacy works. 
The Cuban people will be watching closely every step of the way.