Twitter Turns 10: Relive the Last Decade of World Events in This Celebratory Video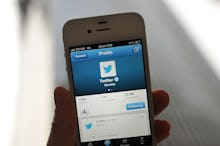 What did you do for your 10th birthday?
Monday, March 21 marked 10 years since co-founder and CEO Jack Dorsey put out the web start-up's very first tweet. 
Since that time, the company has grown into a worldwide behemoth with roughly 320 million active monthly users and has shown itself to be at the forefront of breaking news wherever it is happening.
To celebrate 10 years of making the world turn, the company put out a viral tweet for the ages, complete with a 2:30 second video documenting the company's viral highlights of the last decade. 
Under the hashtag #LoveTwitter, the video moves through recent historical moments it "covered" from the Arab Spring to the Hudson River landing of U.S. Airways Flight 1549 to Leo's first Oscar. It touched on social movements inspired and bolstered by users including #BlackLivesMatter and #LoveWins. 
The video finally closes on a note of laughter with memorable #Fail moments including, Mike Tyson trying to ride a hoverboard and Drake spoofs.
"We thank you for 10 incredible years," the company wrote, adding in a press release that, beginning in Sydney, company offices around the world would observe and celebrate its milestone day. 
"Throughout the years, you've made Twitter what it is today and you're shaping what it will be in the future," stated the company. "Thank you for making history, driving change, lifting each other up and laughing together every day."