Amy Schumer Blesses 'Hamilton' Bar Staff With $1000 Tip, Tells Bartender "I've Been There"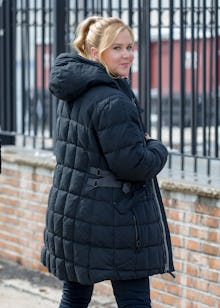 Comedic powerhouse Amy Schumer just gave fans another reason to adore her. During a Saturday performance of Hamilton in New York City, the actress/comedian left a $1,000 tip for the bar staff, all six of whom are aspiring actors. Schumer, who worked as a server before her meteoric rise to fame, tacked on the hefty tip to a comparatively meager $77 bill.
"I'd like to think if I become that successful, that I can do the same," Madeline DeJohn, a member of the bar staff, told the New York Daily News. "She's been one of us. She reminded me that there's still a lot of good in the world." And according to the outlet, when DeJohn thanked Schumer for her generosity, the actress replied, "I've been there, I get it."
Read more: Amy Schumer Makes Fun of Herself in Her 'Inside Amy Schumer' Season 4 Promo
Schumer shared photos of her experience at Hamilton to her Instagram account, captioning one picture, "Our name is Alexander Hamilton."
Schumer fans have a lot to look forward to. The comedian recently announced details surrounding her forthcoming second book, The Girl With the Lower Back Tattoo, which is scheduled for release on Aug. 16. The actress is also gearing up for the fourth season of Inside Amy Schumer, which will premiere on Comedy Central April 21. The upcoming season will feature a guest appearance from Hamilton creator Lin-Manuel Miranda. Watch the season promo below.
Get the five stories that will challenge you to rethink the world by signing up for MicCheck Daily.