Apple iPhone "Loop You In" Event 2016: Livestream, Start Time and Rumored Products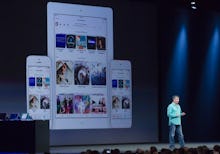 Apple is hosting a major tech event in Cupertino, California, Monday in the midst of an ongoing battle with the FBI to unlock several of its devices. However, its "Loop You In" event likely won't focus on the tech giant's refusal to supply the government with access into the phone used by one of the San Bernardino terrorists — instead, reports are indicating Apple will use the event to make headlines for new products, upgrades and behind-the-scenes developments at the company's headquarters.
Read more: John Oliver Says Apple Is Right in Its Fight Against the FBI — And He'll Convince You, Too
The Apple "Loop You In" keynote kicks off at 1 p.m. Eastern. Check out a live stream of the event here. 
"The company is expected to introduce the 4-inch iPhone SE, 9.7-inch iPad Pro, new Apple Watch bands, software updates, and more," According to 9To5Mac, a tech blog which follows all Apple and Mac product announcements. "The iPhone SE is expected to be a 4-inch model in a lineup of flagship 4.7-inch and 5.5-inch iPhones. As a smaller device that won't exactly be flagship status, the iPhone SE will likely feature a mix of specs from the iPhone 6 and 6s but packaged in an iPhone 5-sized casing."
Below are the rumored product announcements from the Apple keynote, according to Bloomberg Business, Endgaget and 9To5Mac:
· 4-inch iPhone seen with less upgrades, tech advancements and more focus on compact-size and durability.
· A smaller, 9.7-inch iPad Pro, with the same four speakers as the 12.9 inch Pro, as well as a possible rear-flash camera component, Apple pencil support and improved camera quality.
· A whole bunch of software updates for the Apple Watch: Everything from the Apple Watch to the watch bands users don with the sleek smart wear might be seeing a facelift at the event today, as Engadget reports of several rumors going around the tech world about some new shiny wrist wear.