Lena Dunham Says She Receives "Hostility" for Supporting Hillary Clinton for President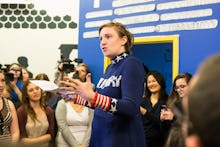 At a campaign event for Democratic presidential candidate Hillary Clinton on Sunday, Girls creator Lena Dunham took to the stage alongside Chelsea Clinton and actress America Ferrera to say that she's never received "more hostility" from the right wing than for her support for Clinton, Variety reported.
"I have received more hostility for voting for a qualified female candidate than I have ever received anywhere from the American right wing," she said. Very public about her support for Hillary Clinton, Dunham has previously spoken about the "rabidly sexist" double standard dispatched from the media against the former Secretary of State.
Read more: Lena Dunham Blasts Hillary Clinton Campaign Coverage as "Rabidly Sexist"
"The fact that other members of the Democratic Party have spoken to me like I was an ill-informed child for voting for someone who represents everything I think this country should be is outrageous," Dunham added.
To Dunham, one of the most maddening comments that put her at her "tipping point" was when someone commented, "Bernie Sanders has done more for feminism than Hillary Clinton has."
Ferrera agreed, adding that "there is this narrative about young women not inspired by Hillary Clinton and that is just not the case. That's not true." She later added that the country doesn't need a "revolution" but rather an "evolution."
About 200 people attended the non-fundraising event, which was held in California as part of Clinton's campaign leading up to the state's forthcoming primary on June 7, according to Variety.