British Dad Curses Out of Excitement Through His Entire First Experience With VR Headset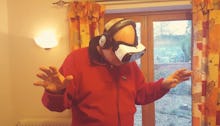 This British dad cursing through his entire first time using Samsung Gear VR should be the next commercial for the tech giant's virtual reality headset.
"Fraser, I'm in New York, shit,"  Anthony Millward says to his son, Fraser Millward, in the video while wearing a VR headset in his kitchen.
Read more: This New Virtual Reality Technology Lets You Chuck Virtual Objects With Your Bare Hands
"Christ, Fraser, this is unbelievable."
Gear VR is Samsung's first wearable virtual reality headset. It's powered by the American virtual reality technology company Oculus, is compatible with Samsung Galaxy smartphones and costs $99.