Justin Bieber Is Creepily Posting Photos of Ex Selena Gomez on Instagram Again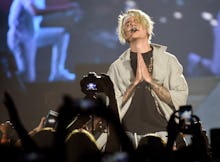 Sensitive young man Justin Bieber had some feels on Sunday. In an effort to deal with said feels, the singer uploaded an old photograph of himself and ex-girlfriend Selena Gomez to Instagram.
Interestingly, the caption reads, "Feels."
The photo's caption makes it evident that Justin Bieber had feels on Sunday, but it reveals little else.
Is this the first time photos of Jelena have given Bieber feels? Nope! Bieber has a tendency to post wistful throwback pics of himself with his ex. In 2015, for instance, he posted this image of the former couple with the caption "crazy throwback," as well as this image with the caption "just a throwback calm down." 
How many feels, exactly? We know it was more than one, but that's all we know.
What filter goes best with feels? Only Justin knows which filter, if any, he used on this image.
Why did he have feels? While it's obvious by now that Bieber misses the loving touch of Selena Gomez (with whom he's been romantically linked for six years now), we don't know what, exactly, prompted Bieber's feels on Sunday. 
Was it the arrival of spring? The fact that it was Palm Sunday? The news that Selena served as Maid of Honor to her newly engaged cousin Priscilla? Or does Bieber, like many of us, drink daiquiris and weepily scroll through photos of his ex on his camera roll on a regular basis? The world may never know (but probably the latter). 
How does Selena Gomez feel about Bieber's feels? "Perfect," apparently! That's what Gomez actually wrote to him in the form of an Insta comment on the photo on Sunday.
How did people respond to Bieber's feels? They flipped the fuck out, obviously!
What do Bieber's feels mean? Perhaps the throwback is an indicator that Bieber and Gomez are getting back together (though that's unlikely, given that both are rumored to be dating other people). Or perhaps it means that Bieber has finally reached the beginning of the end of his longtime obsession with his ex. A wise woman named Oprah once told her disciples that "feeling means you're dealing and healing," which bodes well for Bieber and his journey toward moving on. (Also, it rhymes.)