Full-Figured Model Ashley Graham Is Featured in 5 Beauty Magazines This Month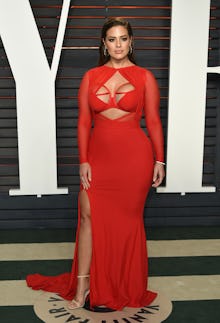 You know beauty and fitness magazines are finally starting to promote body positivity when full-figured model Ashley Graham is featured in five in one month, including the cover of Sports Illustrated, which has a history of featuring only super thin models in micro bikinis.
"Dreams do come true! I'm featured in five magazines this month," Graham captioned an Instagram showing off her several spreads. "Make sure to grab your copies #beautybeyondsize."
Read more: Ashley Graham Just Got Real About How Hard It Is to Find a Dress for a "Girl My Size"
Her comments section blew up with praise and admiration. "I have every one," one follower wrote. "You are such an inspiration!" 
"Thank you for being brave, curvy and beautiful inside and out," another added. "We can all learn a little something about how to be confident and fierce from @theashleygraham."
Graham isn't the only full-figured model featured on the cover of a beauty or fitness magazine this month. Model Nadia Aboulhosn was featured on April's issue of Women's Running magazine jogging like a pro. Aboulhosn told Buzzfeed she avoids the label "plus-size model" because she thinks it "creates a binary where one type of body is considered 'normal' or 'standard,' and anyone who is bigger than that is considered not normal."