Ariana Grande Sings "Dangerous Woman" A Cappella (And Yes, She Really Can Sing)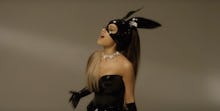 Ariana Grande's vocals are dangerously good. The singer performed one of her most recent singles "Dangerous Woman" a cappella, donning the same shiny black face mask and rabbit ears, gloves and dress from her album artwork.
In a video uploaded to Grande's Vevo YouTube page Sunday, the singer is seen pacing back and forth while singing her hit, which lends its name to the singer's latest album Dangerous Woman, set for release May 20. Not only does Grande perform the entire song the whole way through, nailing each note perfectly, but the singer even takes to ad-libbing the guitar riffs and musical melodies which play in the background. It's a hair-raising performance which seems as though it was done completely spontaneously.
Read more: Is Ariana Grande's "Dangerous Woman" Actually an Ode to Pegging? A Three-Part Analysis
The singer has already released a number of songs off her forthcoming album, including "Dangerous Woman" and "Be Alright." Grande also recently released "Focus," though it's unclear if that song will be on her next album. ITunes lists "Let Me Love You" featuring Lil Wayne, and "Into You" as two songs on the 15-track album, but Grande has yet to confirm either of those will be singles prior to the project's release. 
Grande tweeted the link to the performance on Sunday, writing, "Something fun & different. Love you." The a cappella video quickly became a viral hit, with Grande's tweet receiving over 13 thousand retweets in just 10 hours.