Ellen DeGeneres Gets HBO to Air Dying Comedian Quincy Jones' Stand-Up Special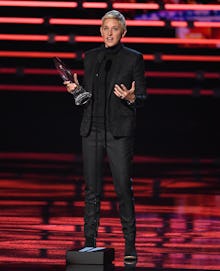 After her Monday show, Ellen DeGeneres may be ready to change her name to Ellen DeGenerous.
The comedian and talk show host invited comedian Quincy Jones onto The Ellen DeGeneres Show Tuesday to share his heartbreaking story. Jones has terminal cancer. Thinking about what he wanted to do with his final days, the comedian decided to film and air a stand-up special.
Read more: Watch Ellen Degeneres Shut Down a Homophobic Hater in the Funniest Way Possible
His Kickstarter funding page has passed its goal 10 times over, and DeGeneres herself contributed a total of $25,000, partially in partnership with Shutterfly. In his first appearance on the show, DeGeneres pleaded with Netflix or HBO to air the special. Monday, the host surprised Jones with good news.
"We called the head of HBO, and your people didn't even tell you this," she said. "HBO is gonna air your special."
Jones immediately started laugh-whooping, clearly ecstatic. "You're lying!" he shouted. "Are you serious?" Indeed she was.
Jones is set to record the special April 4 in Los Angeles' Terragram Ballroom. The special will reportedly air on HBO in the spring.