17 Captivating Photos of President Obama's Historic Visit to Cuba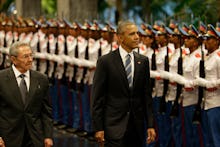 President Barack Obama landed in Cuba on Sunday, marking the first U.S. presidential visit of its kind in nearly 90 years.
Obama's multiday visit is scheduled to include visits to diplomatic facilities, meetings with high-level Cuban leaders including President Ra´l Castro and taking in a baseball game between the Tampa Bay Rays and the Cuban national team.
The visit is the result of years of quiet diplomatic work. According to the BBC, Obama will announce a plan for Google to improve the island nation's internet access, as well as "commercial deals on telecoms and a scheduled airline service, increased cooperation on law enforcement and environmental protection." He also requested meetings with political dissidents.
Cubans responded to the news with a mix of pride and bemusement, the New York Times reported Sunday.
"Everyone wants to know how we Cubans feel about Obama coming," 36-year-old Yamile Suárez told the paper. "I'm frankly just happy that giant pothole finally got filled in, so if I have him to thank for it, thanks, Obama!"
Here's a roundup of the scene in Cuba.
Arrival at José Martí International airport:
Tour of Old Havana and embassy visit:
Meeting with President Raúl Castro:
Visiting the José Marti monument:
The reaction of locals: