Bald Eaglets Are the Most Adorable Patriots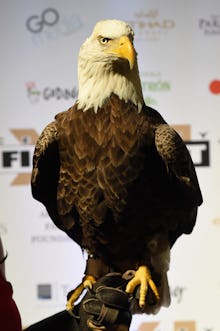 A bald eagle couple affectionally known as Mr. President and the First Lady, currently nesting at the U.S. National Arboretum in Washington, D.C., welcomed their second eaglet into the world on Sunday.
Thanks to the magic of American Eagle Foundation's webcam, viewers were able to witness the new chick poke and prod its way out of the eggy prison and soak in its first rays of sunlight.
When mom and dad are out, the kids seem to have the run of the nest, which is roughly the size of a New York City studio apartment. (Zing!)
You can watch the webcam here. 
While the scene is undeniably cute, the foundation warns viewers on its website that since the birds are wild animals, things could turn turbulent on a moment's notice. 
"This is a wild eagle nest and anything can happen," they wrote. "While we hope that two healthy juvenile eagles will end up fledging from the nest this summer, things like sibling rivalry, predators and natural disaster can affect this eagle family and may be difficult to watch."
Sorry, A.E.F. The internet is no doubt too busy OMG-ing over these tiny fluffernutters to bother with your weird and sad warning.
Read more: This 12,400-Year-Old Puppy May Be Brought Back From the Dead Through Cloning