Here's Why a Christian High School Guidance Counselor Wears a Hijab to School on Mondays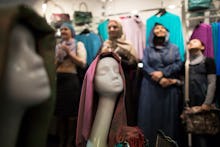 A North Kansas City, Missouri, high school guidance counselor has decided the best way to fight anti-Muslim rhetoric is to wear a hijab, a traditional headscarf worn by millions of Muslim women, to her school every Monday, according to Religious News Service.
"I've just gotten very tired of hearing so many negative things, like Donald Trump's 'let's not let Muslim immigrants into the United States' and the scare on Syrian refugees," Martha DeVries told Baptist News Global last month.
Read more: Muslim Athlete Ibtihaj Muhammad Was Asked to Remove Her Hijab for a SXSW ID Badge
The wife of a Baptist youth minister, DeVries was motivated by a sermon her pastor gave, which spoke on stepping outside of one's comfort zone to make a difference in the world. "I felt moved out of my comfort zone," the 47-year-old said, according to Baptist News Global. "I think of Muslims in my community as my neighbors and it's not my job to judge them or determine their salvation. My job is to love them."
DeVries isn't the first woman in education to wear a hijab in solidarity with Muslim Americans. Larycia Hawkins, a former associate professor of political science at Wheaton College, said that she would wear a hijab every day until Christmas as part of the Christian Advent. 
DeVries' act of solidarity has been welcomed by some. "This particular act is very helpful — a Christian sister helping us or helping other Christians realize how a person might feel in the scenario," Laeeq Azmat, secretary of the Islamic Center of Northland in North Kansas City, told Religious News Service.
The high school guidance counselor has been criticized for cultural appropriation, because at the end of the day, DeVries can simply remove the hijab. Living with the hijab is simply an experiment for her, not reality. Two Muslim women wrote about "hijab solidarity" in the Christian Post, stating that non-Muslim women who wear the hijab in a show of solidarity are actually doing more harm than good.
"We don't buy it," the women told the Christian Post. "This ideology promotes a social attitude that absolves men of sexually harassing women and puts the onus on the victim to protect herself by covering up."
In December, DeVries wrote about her experience at an airport while wearing a hijab. "I will never understand what it is like to be Muslim in America," she wrote on Facebook. "This experience will only give me a taste of what it is like to cover my head once a week for a few months. I hope others will read about my experience and take time to get to know someone new." 
March 21, 2016, 3:43 p.m. Eastern: This story has been updated.