Tennis Just Set Itself Back With Sexist Comments From Novak Djokovic and Tournament CEO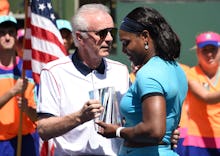 The BNP Paribas Open, also referred to as the Indian Wells tennis tournament — arguably one of the biggest tennis competitions outside of its four annual Grand Slams — has dealt with its share of controversy in years past. Serena Williams boycotted the tournament for over a decade after a hostile crowd met her with boos and jeers. Now, Indian Wells CEO Raymond Moore, coupled with comments from world No. 1 Novak Djokovic, have insulted the Women's Tennis Association and its players.
It began with Moore talking about how the WTA "ride on the coattails of the men," suggesting their fame is hinged on the success of the male players in the sport. "If I was a lady player, I'd go down every night on my knees and thank God that Roger Federer and Rafa Nadal were born because they have carried this sport," Moore said, according to ESPN. "They really have."
Read more: Venus Williams Wrote an Essay About Serena That Attests to the Power of Sisterly Love
In response, Williams — who is regarded as one of the best athletes in the world — defended the WTA and its players from Moore's sexist claims, while also noting that the women's final at last year's U.S. Open sold out quicker than the men's. 
"You know, there's only one way to interpret that," Williams said, according to ESPN. "Get on your knees, which is offensive enough, and thank a man, which is not — we, as women, have come a long way. We shouldn't have to drop to our knees at any point."
While the comments were offensive and ill-timed, having it addressed once should have ceased speculation on the topic after Moore apologized in a statement. However, the topic was brought to Djokovic's attention following his tournament win, and he said male players deserve higher pay than women in tournaments because they account for higher spectators. 
However, he backtracked and insisted that he had respect for female players. After all, they have to deal with "hormones and different stuff." 
"I have tremendous respect for what women in global sport are doing and achieving," Djokovic said, according to the Guardian. "Their bodies are much different to men's bodies. They have to go through a lot of different things that we don't have to go through. You know, the hormones and different stuff, we don't need to go into details."
The Twitterverse was understandably irate, but also provided evidence to dispute Djokovic and Moore's ridiculous claims — broadly, how the WTA's success is hinged on the men's game. 
Tennis is a rare competitive sport in which the male and female divisions participate adjacent to one another constantly — including mixed doubles as a tournament regular. Sadly, these comments indicate that just because they play closely with one another, it doesn't mean women will receive the same respect from their peers. 
"What women do best is rise above those comments," Williams said, according to ESPN. "You don't hear complaints or bad comments towards men. If we rise above that and keep working hard in everything we do, we're better. We're better at taking opportunities and being graceful. It's our duty to keep just working hard through whatever comments there is."