Nearly 19,000 Indonesians with Mental Illness Live Shackled in Chains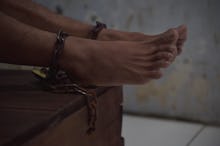 A new report from Human Rights Watch, a non-governmental organization that researches human rights, found that almost 19,000 people living in Indonesia that have been diagnosed with mental illness are currently living in terrifying conditions.
The report, released Monday, suggested that 18,800 individuals are currently in pasung, which is the practice of putting individuals with "real or perceived psychosocial disabilities" in shackles or "locked up in confined spaces." Although the practice of shackling the individuals diagnosed with mental illness was banned in Indonesia over three decades ago, access to mental health care remains an issue for the Southeast Asian nation.
Read more: What EU Leaders Just Did to Refugees Is Worse Than What Trump Has Said About Them
"Ministry of Health data shows that nearly 90% of those who may want to access mental health services cannot," the report stated. "The country of 250 million people has only 48 mental hospitals, more than half of them located in just four provinces of Indonesia's 34 provinces. Eight provinces have no such hospitals, and three have no psychiatrists."
"The government needs to make mental health a priority because it's a human right," Dr. Pandu Setiawan, chairman of Indonesian Mental Health Networks, told Human Rights Watch. "Human rights for mental [health] patients should be the same as for anyone else."
The report acknowledged that a "widespread belief that mental health conditions are the result of possession by evil spirits or the devil, having sinned, displayed immoral behavior or lacking faith," helps contribute to the conditions of mental health care within Indonesia. 
h/t: Time