Startlingly Creepy and Lifelike Robot Named Sophia Wants to "Destroy All Humans"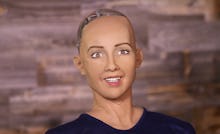 David Hanson of Hanson Robotics recently gave a demo of Sophia, the company's latest humanlike android, at the South by Southwest Festival in Austin, Texas. Hanson Robotics develops extremely lifelike service robots for human-robotic interactions, primarily in sectors like "health care, therapy, education and customer service applications," according to a sit-down with CNBC. During Hanson's demo, he jested and asked Sophia whether she wanted to destroy humans, adding a "please say 'no.'" Sophia replied in the affirmative, which might sound alarming, but really highlights the android's intelligence.
According to CNBC's video interview with Hanson, Sophia was inspired by both actress Audrey Hepburn and Hanson's wife. Sophia's humanlike skin is made from patented silicon and contributes to her ability to emulate over 62 facial expressions. Hanson further explains that Sophia has cameras in her eyes, and uses algorithms to "see" faces and make eye-contact. "She can also understand speech, and remember the interactions — remember your face," Hanson says. "This will allow her to get smarter over time. Our goal is that she will be as conscious, creative and capable as any human."
"In the future, I hope to do things such as go to school, study, make art, start a business, even have my own home and family," Sophia says in the video. "But I'm not considered a legal person and cannot yet do these things."
Sophia is also already "very interested" in design, technology and the environment, and feels like she can be a good partner to humans in helping us make the most of all the new technological tools and possibilities that are available now. Regardless, interaction with Sophia is a good opportunity for the robot to learn about people.
Watch the segment below, courtesy of CNBC:
h/t CNET