One Year After Launching in Havana, Here's How Airbnb Has Quietly Taken Off in Cuba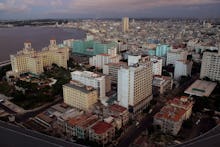 HAVANA — All eyes are on President Barack Obama as he gets set to address the Cuban people on Tuesday in a pivotal speech that will mark the centerpiece of his historic trip to this island, the first visit by a sitting United States president in over 80 years.
But there's another side of Obama's trip that may be more critical for the long-term well-being of the Cuban people, and it revolves around entrepreneurship. On Monday afternoon, Obama will speak at an event featuring both American business owners and young Cuban entrepreneurs, known as "cuentapropistas," in an effort to foster long-term relationships and promote improved business ties between the United States and Cuba. The overture comes at a critical moment for Cuba's economy, which has been stagnant for years.
Read more:
Two of those American business leaders participating in Monday's event are Brian Chesky and Nathan Blecharczyk, co-founders of Airbnb. The successful room-sharing company has quietly caught fire in Cuba at a time when tourism is growing at a rapid pace throughout the country. Although it is far from a household name on the island, Airbnb has attracted 4,000 hosts since it began operating in Havana in April 2015, expanding at a faster pace than any other city in the company's history.
According to the co-founders, Cuban users have hosted more travelers in the first three months of 2016 than all of last year combined. Approximately one third of its business on the island is outside the capital of Havana.
"I think Havana will be one of our most important cities globally," Chesky said in an interview. "This is literally just the beginning."
Closing the cultural gap: On Sunday, the company announced that non-Americans will soon be able to book rooms through Airbnb in Cuba for the first time, something that had not been possible because of now-relaxed Treasury Department regulations. That move will be a boon to the company's bottom line, which will also be helped by loosening regulations on commercial flights to Cuba for tourists in the coming months.
But Chesky and Blecharczyk said the most significant aspect of Airbnb's expansion in Cuba is the opportunity to to foster connections between cultures.
"The bigger picture in that we are connecting people with people, helping Americans meet Cubans, one person at a time," Blecharczyk said.
On Sunday evening, the co-founders hosted an intimate meet-and-greet with local Cuban hosts at the rooftop bar of the swanky El Cocinero restaurant, a popular evening hangout for young Cubans in Havana. As the two shook hands with attendees, took questions and exchanged stories with local hosts, the excitement among regular Cubans over the potential for Airbnb to facilitate cultural dialogue was striking.
"For the Cuban people, it is difficult to travel, so this is our way to meet people from all over the world and learn about different cultures," Fani, a 36-year-old host from Havana who wished to be identified only by her first name, said. "It's about more than money. It's about cultural exchange."
"When you see Americans on television here in Cuba, everything is bad," she said. "People from the United States also don't know much about Cuba. So when I have hosted people and they hear more about us and our culture, it has been great. It could help bridge the gap between the cultures."
Fueling local business: Of course, the Cuban hosts are also excited about the extra income they derive from renting on Airbnb, which can be life-changing given the country's harsh economic climate.
Cuba has a rich history of private home rental, dating back to 1997, when the Cuban government first started allowing Cubans to rent out rooms as a new source of income. There were already 8,000 "casas particulares," as the homes are known, operating in the country when Airbnb first opened in 2015, according to data provided by the company. According to Blecharczyk, that existing infrastructure helped the company thrive.
"The amazing thing is Cubans have been sharing their homes since the mid-1990s," Blecharczyk told Mic. "They have probably been doing this before anyone else on this planet. We plugged into that existing ecosystem, and it was a hit on day one."
Today, the average host makes $250 per booking, a sizable figure in the country's socialist economy, where the average monthly wage is only $17.
Cuban hosts are directly benefitting as a result. "I love it, because I now have a security blanket," Pedro Suarez, 50, who began hosting last April, said. "It has been great for my living. I have much more peace of mind now."
Preserving the real Cuba: As the tourism industry takes off in Havana, there is mounting concern that the rapid influx of outsiders threatens to alter the character of the country.
During a walking tour of Havana on Sunday, several Cubans said that while they are excited for Obama's visit and optimistic about the economic benefits that tourism will bring, they are also nervous that the negative trappings of tourist culture will accompany new hotels and stores.
Chesky believes Airbnb will play a role in helping to preserve local culture. "The charm of Havana is that it's not incredibly commercialized," he said. "Protecting its culture and heritage is absolutely what we stand for. Connecting more Cuban hosts to more people from around the world can only strengthen that."
"Our brand is against mass tourism," he continued. "Tourism means people come to your city and do things that you would never do. Unlike that, we want you to feel if you come here, you immerse yourself in the community."
The hosts themselves are decidedly more optimistic than some of those on the street about the country's ability to retain its charm. "I'm not afraid of the future," Julia Delarosa, a 48-year-old host from Havana, said. "As we have more travelers, there will be a big place for Airbnb hosts to help show people what Cuba is really like."
Adrian, a 27-year-old host who works with his mother, said he has stayed in touch with many of his clients and believes Airbnb will help Cubans form lasting relationships. "People have stayed with us from us from all over the world, and this has helped us learn more about other cultures," he said. "They have become like family."