Serena Williams Gives Epic Clapback to Indian Wells CEO's Sexist Comments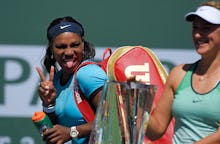 Serena Williams has words for Indian Wells CEO Raymond Moore. On Sunday, Moore was asked a question about the Women's Tennis Association — the world's main organizing body for women's professional tennis — and had this to say in response:
"[In] my next life when I come back I want to be someone in the WTA, (laughter) because they ride on the coattails of the men," Moore said. "They don't make any decisions and they are lucky. They are very, very lucky."
Read more: Tennis Just Set Itself Back With Sexist Comments From Novak Djokovic and Tournament CEO
"If I was a lady player, I'd go down every night on my knees and thank God that Roger Federer and Rafa Nadal were born, because they have carried this sport. They really have."
Cool story, but on Moore's last point in particular, many fans would disagree: In both 2013 and 2014, the women's U.S. Open final drew higher TV ratings than the men's final — thanks mostly to the staggering success of 21-time Grand Slam singles champion Serena Williams, who won both years.
Williams competed at the BNP Paribas Open at the Indian Wells Tennis Garden on Sunday. Here's what she had to say when asked about the tournament director's sexist comments made the previous day:
"Obviously I don't think any woman should be down on their knees thanking anybody like that," Williams said, according to CBS Sports. "If I could tell you every day how many people say they don't watch tennis unless they're watching myself or my sister, I couldn't even bring up that number."
She added, "I think those remarks are very much mistaken and very, very, very inaccurate. ... Last year the women's final at the U.S. Open sold out well before the men. I'm sorry, did Roger play in that final or Rafa or any man play in that final that was sold out before the men's final? I think not."
It's bad enough that anyone still has to defend the validity of women's tennis in 2016. But Indian Wells holds an especially fraught place in Williams' life. In 2001, Williams was set to face her sister, Venus, at the tournament there before Venus had to withdraw due to injury. Spectators responded viciously. They taunted, booed and heckled Serena, while the Williams sisters' father and then-coach, Richard Williams, said he was even subjected to racist taunts. 
Serena Williams vowed then never to return to the tournament. But in 2015, she came back for the first time in more than a decade, saying she wished to leave the past behind her. 
"I no longer want to let a unfortunate single incident overshadow all the great memories that my family has created there," she said in a video released in February 2015. "I'd like my return to Indian Wells to positively impact the lives of countless others."
And now, just one year later, she has to deal with this nonsense. Keep fighting, Queen Serena.
h/t The Cut