'People' Removes Anti-Vaxxer Kristin Cavallari's Potentially Dangerous Baby Formula Recipe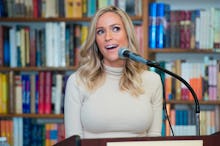 Reality star and anti-vaxxer Kristin Cavallari is stirring up controversy with her new book Balancing in Heels, after including a homemade recipe for a goats-milk-based baby formula — and People magazine got caught in the crosshairs for publishing it.
People published the article in its "Great Ideas" section (irony noted) less than a week before it took it down.
Cavallari highlighted her stance on breastfeeding by posting a picture of herself on Wednesday pumping breastmilk while on her book tour. 
"Because her sons have 'sensitivities to cow's milk,' the former Laguna Beach star — who takes an anti-vaccination stance — uses goat's milk powder for her homemade formula," the original article wrote, according to Jezebel. "Other ingredients include organic maple syrup and cod-liver oil."
The reality star and wife of Chicago Bears quarterback Jay Cutler said she prefers feeding her three children homemade, organic foods, believing it's much healthier than "heavily processed, store-bought formula," Raw Story reports. 
However, the American Academy of Pediatrics warns that Cavallari's unorthodox approach to feeding could actually be unhealthy.
"If infants are weaned from breast milk before age 12 months, they should be fed iron-fortified infant formula rather than cow's milk," it writes in a pamphlet on nutrition. "Cow's milk, goat's milk and soy milk are not recommended during the first 12 months of life."
But by all means, keep taking your health tips from reality stars.