Drake's Toronto Ghostwriter Mo-G Says He Wasn't Paid A Dollar For His Talents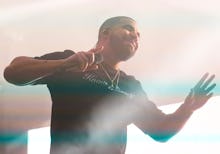 It's not the first time Drake has been accused of employing ghostwriters to produce his endless series of club-anthems and radio smash hits, but Toronto rapper Mo-G is accusing the 6 God of using his talents without proper accreditation or even pay. The artist took to YouTube over the weekend to rant about his beef with Drake and the Canadian rapper's manager Oliver El-Khatib, claiming his business-oriented albeit friendly relationship with Drake (who acknowledged Mo-G in his recent song "Summer 16") is over.
"Have you ever heard in hip-hop that mad niggas waste creativity? They make hits but never get a dollar for it, one credit for it," Mo-G says in the video, uploaded to YouTube on Sunday. "You get stuck in the hood. It doesn't make sense. Fuck you bitch ass niggas, it's on."
Read more: 10 Drake Lyrics That Prove Sad Drake — Is The Best Drake
Sound familiar? Many artists employ songwriters to help them create their Top 40 hits. But Drake's private dealings with ghostwriters have been exposed before, when fellow rapper Meek Mill spilled the beans about Drake's friendship with Quentin Miller, who was given credit for co-writing "10 Bands," "Know Yourself," "Used To," "No Tellin'" and "6 Man."
Though Drake certainly shouts out Mo-G in one of his latest hits, rapping "Mo-G with the dance moves / Ave Boy with the dance moves," in "Summer 16," it appears the young talent isn't happy with the amount of respect he's been given by Drake's camp, claiming El-Khatib instigated fights between him and the group. 
"Oliver's a fucking snake ass nigga, a double-headed snake ass nigga, psychotic looking mothafucka ass nigga," Mo-G says in the video. "Always stirring the pot saying Rihanna don't want me at the music video, Drake didn't want me to come, 'All Drake's friends hate you, Drake doesn't like you,' You always stirring the pot you bitch ass."
Now, the Toronto rapper is claiming Drake's manager El-Khatib has reached out, offering to pay him a total of $500 for using his creativity. "$500 dollars? Can't even pay momma's rent," Mo-G said in a series of Instagram videos Monday morning. Looks like it's just the beginning of a newly public ghostwriting controversy for Drake — and the young talent refuses to remain silent: