This Is the New iPhone SE — The Perfect iPhone for Donald Trump's Tiny Hands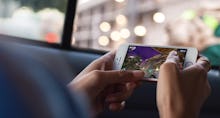 When Apple announced the iPhone 6, it wasn't just our wallets that groaned; it was our pockets. In order to have the best iPhone on the market, you'd have to get a giant phablet. But Apple giveth as Apple taketh away, and now there will finally be a new option for the meek, the pocketless and the short-fingered vulgarians amongst us.
Apple announced the iPhone SE at their event on Monday. The phone will only cost $399 for 16GB model ($499 for 64GB); it will be ready for pre-order on March 24 and will go on sale March 31.
Details: The screen is 4 inches, the same size and exterior design as the iPhone 5c. In fact, the phone is nearly indistinguishable from a 5S, except for the gut renovations that make it faster and sleeker.
It has the same processing and graphics performance of the iPhone 6s, and has a 12 megapixel iSight camera with true-tone flash. It shoots in 4K video, has updated LTE and Wi-Fi speeds and has a fingerprint scanner on the home button.
The iPhone SE announcement came with an iOS update as well. The new iOS update, version 9.3, will have a night-shift mode that changes the color-balance on your screen at night toward warmer colors to protect you from nefarious blue light.
Good for pockets business: People clearly want smaller phones — in 2015, Apple still sold 30 million 4-inch iPhones, even if they're older models. It's also the most trotted-out example of how women's fashion doesn't respect the need for women to have working pockets:
It will also create an opportunity for Apple to sell more iPads. Those of us who were forced into a large format with the last round of new iPhones found ourselves with a phone so big, our tablets became useless. A smaller iPhone could create a hunger for a second, larger screen.
But maybe the most relevant feature of the iPhone SE is the price. Apple CEO Tim Cook said iPhone SE is the cheapest-ever iPhone at release time, meaning that Apple can finally break through to people who think iPhones are way too expensive, edging in on Android's more working-class constituency.