Five Years Ago, Netflix Announced They'd Make Their Own Shows — Here's How They've Done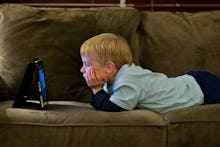 Five years ago this March, Netflix had an idea. What if, instead of just streaming previously released movies and TV, they made TV of their own? What if they had a series that could compete with network and cable TV for awards, audience and critical attention?
"Just a couple years ago, this would be completely unheard of," Ted Sarandos, Netflix's chief content officer, told the New York Times in 2011. "It speaks a lot to how quickly this market is emerging and to how quickly Netflix has become a real, legitimate entertainment brand in the eyes of both consumers and content creators."
Read more: 'Fuller House' Accidentally Told a Compelling Story About How Friendships Help Us Cope
That first series, starring Kevin Spacey and helmed by director David Fincher, was House of Cards. Earlier this month, that show premiered its fourth season — and it's already been renewed for a fifth. Clearly, Netflix's idea half-a-decade ago paid off. Streaming television is a force on the awards circuit, and the service is churning out new series more than ever.
How is Netflix's strategy working, though? The service infamously won't reveal how many people are watching their programs, and user ratings are an inaccurate and biased metric. So evaluating Netflix's original programming success requires some creative criteria: awards success, critical enthusiasm and diversity of the overall programming slate.
Awards
Netflix has enjoyed a good deal of success at the three biggest award shows for TV: the Emmys, the Golden Globes and the Screen Actors Guild Awards. Orange Is the New Black's ensemble cast has taken the top prize at the latter show two years running now. The streaming giant has also cleaned up in Emmy nominations and Golden Globe nods, even beating out awards titan HBO in last year's Globe nominations.
That said, with the exception of SAG, Netflix's shows have had some trouble sealing the deal. At the Golden Globes, House of Cards stars Kevin Spacey and Robin Wright have each won one award, but only Wright earned a nod this past year. The show itself didn't earn a best series nomination either, nor did high-profile shows like Daredevil or Unbreakable Kimmy Schmidt.
Meanwhile, Amazon's Transparent and Mozart in the Jungle took the best comedy/musical series Golden Globe the past two years, and Transparent enjoyed major success at the Emmys last year. Considering the number of series Netflix is able to submit, and their high number of nominations, they're falling a bit short on actual wins.
Critical enthusiasm
The lack of award wins isn't for a lack of critical enthusiasm, though. A dozen of the streaming service's series boast 80%+ approval ratings on Rotten Tomatoes. Even some of those that fall slightly below that threshold are critically acclaimed: BoJack Horseman's second season earned universal praise, while Narcos' first season earned a Golden Globe nomination for best drama series.
There are plenty of series that earn critical acclaim — they don't call it a Golden Age of TV for nothing — but for so many of Netflix's series to do so well so early in its life is a marvel. Comparable TV networks (like the CW, for instance) took far longer to come into their own.
Diversity of programming
When we say diversity, we mean two things: inclusion of diverse talent and the actual breadth of types of programming. On the former point, Netflix does fairly well, though could always improve. Shows like Master of None and Club de Cuervos put talent of color both behind and front of the camera, while Orange Is the New Black and Unbreakable Kimmy Schmidt feature prominent queer characters and people of color.
Sense8, the globe-spanning sci-fi series from the Wachowski sisters, is perhaps most emblematic of how inclusive Netflix can get. Its two creators are trans women; its centerpiece scene is a pansexual orgy. The characters are of different nationalities and ethnicities. It's an impressive feat, and despite how unconventional it is, it was given a second season.
Netflix's willingness to give shows time to develop is great — creators like the Wachowskis and Master of None's Aziz Ansari deserve time to work out their series' tones without the pressures of the TV ratings rat race. However, the service's flexibility has also led them to renewing everything. We don't mean that figuratively: Even Between, the worst-reviewed Netflix show, was renewed for a second season.
So far, this hasn't proved to be much of a problem. Netflix is ordering more and more series each year, programming more subsequent seasons and spending more money. They haven't hit their ceiling, be it financial or temporal. Judging by their three-season renewal of Orange Is the New Black, they're not even close to it.
Eventually, however, Netflix will hit their peak. Which shows last after that point will be indicative: Do they keep crowd-pleasing hits like Fuller House and House of Cards, or do they keep off-beat gems like Bloodline and BoJack Horseman?
Right now, the state of Netflix is strong; almost impossibly so after just five years. But it's the next five that will tell us most about what kind of network Netflix actually is.