There's a New Starbucks Latte Flavor in Honor of Hot and Cold Spring Weather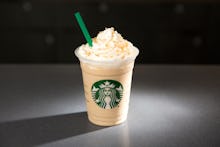 Starbucks is back at it again with the seasonal beverage flavors. After announcing the cherry blossom frappuccino last week, the coffee giant introduced their new caramelized honey latte Monday in honor of the strange weather kicking off spring 2016.
"One of the things we're most excited about with Caramelized Honey Latte is how well it works both hot and iced," Christal Canzler, of Starbucks' beverage development team, wrote in a statement. "It's perfect for spring weather."
Read more: A New Fast Food Chain Allows You to Order and Eat Without Any Human Interaction
The sweet and likely highly-caloric beverage involves "slow-cooked" caramel, espresso and steamed milk. "The caramel honey sauce is slowly kettle-cooked to develop a rich, caramelized flavor that stands up to our signature Starbucks espresso," Canzler wrote. 
Caramel? Honey? Kettle-cooked? Rich? Caramelized?! Sold. 
It'll be available in the United States and Canada starting Tuesday for an unspecified "limited time" only.
The previously introduced cherry blossom frapp was a strawberries and cream beverage topped with a trendy white chocolate matcha drizzle. It was only available in the U.S. from last Tuesday through Sunday.