"Work" Singers Rihanna and Drake Visit Girl With Cancer for Make-A-Wish Foundation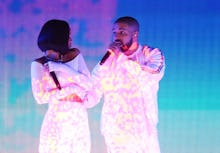 "Best day of my life!" Megan wrote in her Snapchat video, which was also posted on her private Instagram. "I met the LOML (Love of my life). He was so sweet & down to earth. Gave me and my family some OVO clothing. Best day ever. No lie." 
While in Miami for Rihanna's Anti World Tour this month, Rihanna and Drake went to a hospital to pay a surprise visit for a young fan with cancer named Megan, according to XXLMag. The "Work" singers made the visit to Megan in part with the Make-A-Wish Foundation. 
In the Instagram video, Drake kisses her on the cheek after saying this is "the best Snapchat" video he's ever done before.
Read more: Rihanna's 'Anti' Is for Herself and No One Else
On Monday, Rihanna's Anti album climbed up to No. 1 on the Billboard 200 throne, eight weeks after its release and the last time it reached No. 1, according to Rap-Up. "Work," the song that she collaborated with Drake on, is No. 1 on the Billboard Hot 100 for the fourth consecutive week.